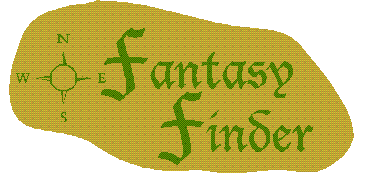 Robin Hobb
Royal Assassin (Volume 2 of The Farseer)
Bantam Spectra 1996
This is the second book of the Farseer-saga. If you haven't read "Assassin's Apprentice", don't read any further.
Months after Kettricken, daughter of the king of the Mountain Kingdom and now the wife of Verity, king-in-waiting of the Six Duchies, and prince Regal, Verity's treacherous brother, have left for Buckkeep, Fitz is still in Jhaampe, the capital of the Mountain Kingdom. He is very weak, because of two attempts to poison him and one to drown him, all of them orchestrated by prince Regal who wants to seize his brother's throne. He is also heartbroken, because he knows almost for sure that his beloved Molly (who doesn't know he loves her) has been killed - or maybe Forged - by the Red-ship Raiders. But when he, through magic, for a short time feels what it's like to be the old king Shrewd, he decides that it's not that bad for him after all, and goes back to Buckkeep. He becomes Verity's closest man, and with the help of Burrich, Chade, the Fool, Lady Patience and a few other trustworthy persons, he tries to save king Shrewd, Verity and Kettricken, and the kingdom as we know it, from the evil intrigues of prince Regal and the attacks from the Outislanders and Forged people.
Hobb's first book, "Assassin's Apprentice", was very good but this one is magic. When Fitz has come back to Buckkeep, it becomes almost impossible to stop reading this book. Work doesn't seem important, friends don't seem important. You just need to know what will happen next to Fitz. I read til late in the nights, got up early in the mornings to continue reading. So - if you have important things needed to be done immediately, you'd better wait starting reading this book. Otherwise you might get in trouble....
The palace intrigues of this book is absolutely excellent. I got really upset when reading about Regal's devilish accomplishments, but Fitz is quite good at it too, as are some of his allies. And sooner or later one part or the other of the Six Duchies will openly rebel against one prince or the other... I love those power games.
And the love games are interesting too. Bitter and sweet, and Ms Hobb really know how to create a web of tragedies. And how to connect them to the game of power, to loyalty and honor. A sad story is often more beautiful than a happy one, and this one is very beautiful.
Now I'm desperately longing for the third book in the series, but I guess I will have to wait for several months, maybe even a year. In the meantime, I'll be reading the first two books once more. Yes, they are that good.
Karl Henriksson
---
Order your copy from Amazon.com now:
| | | |
| --- | --- | --- |
| Trade Paperback | | US |
| Paperback | | US |
| Paperback | | UK |
---
See also Fantasy Finder's guest book: 960812, 970317, 970412, 970707.
Other books by the same author:
Assassin's Apprentice
Assassin's Quest
Ship of Magic
The Mad Ship
---
Reviews - Top 5 - FantasyLinks - BoardRoom - Eternal Classics
Award - Book Search - Chat - Free E-mail - Advertising
---
© 1996-1999, Henriksson & Henriksson.