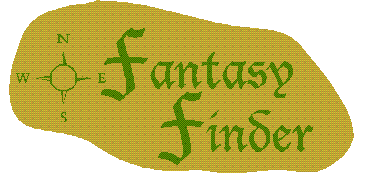 Robin Hobb
Assassin's Quest (Volume 3 of The Farseer)
Bantam Spectra 1997
This is the third book of the Farseer-saga. If you haven't read "Royal Assassin", don't read any further.
FitzChivalry, King's Man and royal assassin, is believed to be dead - by his enemy, the self-proclaimed King Regal, by Regal's coterie of Skill-magicians, by his stepmother Lady Patience, even by his woman, Molly, who fled Buckkeep before it happened. But a few knows the truth - that his spirit moved to the body of his Wit-brother, the wolf Nighteyes. A few days later, it was restored to his old body, diggen out of the grave. Now he is back in his own scarred body, more than part wolf and with only one thought that keeps him going: revenge.
At last, Robin Hobb is back with the third and conclusive part of her epic Farseer Saga. And it was well worth waiting for, a story both beautiful and tragic, but with more than enough of action and adventure, as well as new and very interesting facts about the world the story is set in.
Some who hasn't read the series might think I'm too generous with my compliments, but these books really are the kind you just can't put away. Spell-binding, breath-taking, and leaving you - at best - in a rainy November mood. This doesn't mean that all elements of the story are in any way unique. A ghost city of a lost civilization is one of several things that reminds me of Robert Jordan's "Wheel of Time"-series, the magical roads west of the Mountains are quite similar to those in Modesitt's Recluce books, and the lands of the west most of all reminds me of the writings of science fiction Grand Master Clifford D. Simak, whose feeling for autumns is well known. But Hobb does it better than Jordan, Modesitt or Simak.
One of many things Ms Hobb is good at, is creating believable characters. In this third book, we are not only following Fitz on his quest for revenge, or King Verity on his quest to find the dragons of legend. We are also introduced to a few new important people, like Starling, a minstrel so obsessed of her dream of stardom (or being remembered) that she joins the unwilling Fitz on his dangerous undercover trip westwards, in a tasteful parody on the journalist stereotype of our time.
But Ms Hobb's master-piece shouldn't be read as a commentary to our time, but as a wonderful and tragic epic, a very good read and a good cry too.
Karl Henriksson
---
Order your copy from Amazon.com now:
| | | |
| --- | --- | --- |
| Hardcover | | US |
| Paperback | | US |
| Paperback | | UK |
---
See also Fantasy Finder's guest book: 960812, 970317, 970412, 970707.
Other books by the same author:
Assassin's Apprentice
Royal Assassin
Ship of Magic
The Mad Ship
---
Reviews - Top 5 - FantasyLinks - BoardRoom - Eternal Classics
Award - Book Search - Chat - Free E-mail - Advertising
---
© 1997-1999, Henriksson & Henriksson.