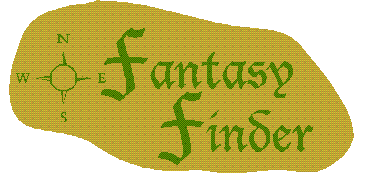 Kristine Kathryn Rusch
The Sacrifice (Volume 1 of The Fey)
Bantam Spectra 1996
The Fey have, with magic, bloodkust and no mercy, conquered three continents. Now Rugar, the son of the Black King has seen a vision (he is a Visionary) where his daughter, Jewel, walks in the castle of the Blue Isle as if it was all hers. Against the will of his father, he decides to invade the Isle.
The Blue Isle is rich, but its people has never gone to war, safe as they are behind treacherous cliffs, the Stone Guardians. When Rugar's army arrives, with a little help of magic, they are at first slaughtered like sheep - until they find a poison against the Fey - in their old religion.
This is a great story, and extremely well told, as Rusch's stories always are. The story emerges in pieces as different people, both Fey and Islanders, are followed through some interesting incidents. In each chapter there is a change in perspective, and the author makes even the Fey perspective, which in most fantasy books would be described as evil, believable (and very interesting). We see the world from the view of Fey doppelgängers and "Red Caps" (the lowest of low, magicless Fey), we see it from the view of Prince Nicholas of the Blue Isle and the Rocaan, the religious leader of the Isle, and many more. And she makes them all into believable characters.
While the Islanders have a quite normal, medieval culture, the Fey are quite different. In fantasy novels, it's not unusual to give dwarves and elves cultures that are more understandable for Westerners than today's Indian and Chinese cultures. Well, the culture of the magical Fey is at least as alien to us as is the Indian culture... The Fey magic is quite innovative too, no ordinary fire bolts here! About the Islanders, their religious beliefs (and doubts) and practices is the most interesting. But there is still a lot left unknown for the following parts of the series.
And there is of course a lot of action and intrigue, and the unevitable love story... All in all, this is a great book which I sincerely recommend.
Karl Henriksson
---
Order your copy from Amazon.com now:
| | |
| --- | --- |
| Paperback | |
---
Books by the same author:
The Changeling (Book 2 of The Fey)
The Rival (Book 3 of The Fey)
The Resistance (Book 4 of The Fey)
Victory (Book 5 of The Fey)
Rusch, Kristine Kathryn (personal home page)
---
Reviews - FantasyLinks - BoardRoom - Top 5
---
© Henriksson & Henriksson 1996.