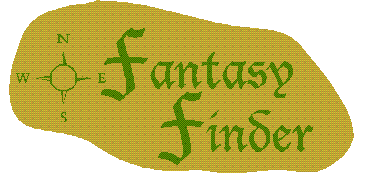 Melanie Rawn, Jennifer Roberson & Kate Elliott
The Golden Key
DAW Books 1996
Sario Grijalva was the most promising of the young Grijalva artists. In a family where almost everyone is a painter and almost everything is painting, that is a big thing. He was their hope - the one who should be the next Lord Limner, a position the family had been kept from for far too long. The church considered the family unclean, and many spoke about their dark magic. But before Sario and his female friend Saavedra went to their Gifted leaders' secret meeting, no one outside that little clique knew anything of the truth about it: the magic of blood and saliva put into a painting, magic that, rightly or wrongly used, could change the world.
In a world where everything is painted - all contracts, all marriages, betrothals, births, deaths, everything - magical paintings are powerful instruments. When Sario understood a little of the power of the Gifted painter, he knew that he would never submit to the family's control. With a little help from an old man who lived as a stranger in the city, he learned new things about magic and art, things no Tira Virteans ever had known before. His mind was set on becoming the greatest Limner ever, creating new rules for everything. He wouldn't even let death control him. But when Saavedra fell in love with the Duke's son, Alejandro, Sario's world suddenly seemed to fall apart. In his desperation he makes a move that nobody could expect, and which will change the course of the world.
This novel, taking place in the history of Tira Virte, a small duchy on its way to become a major power, from the Renaissance to the Age of Revolutions (15th C to 1800) is definitely inspired by Iberian history. Some books that follow real world history quite closely could just as well have been historical novels, like Paula Volsky's Illusion. This one couldn't. The magic is so essential for the story, and so interesting in itself, that the fantastic elements take it to new heights. That the authors use real, easily identified, historical events as a background for the story makes it more acceptable for the mind, more realistic. Which makes the effect of wisely applied magic all the better, especially as the magic feels quite realistic too.
But an interesting world and interesting magic isn't enough is the story isn't any good. This one is, in my opinion. Love, passion, jealousy, betrayal and political intrigues is a powerful combination. I think the authors have got it right: not only the right ingredients, but also used the right way. The characters get a real-life quality, their problems moving up from the formula plot construction level so many other promising novels get stuck on to real human drama.
"The Golden Key" is one of all those big fantasy novels. Almost 900 pages, it would've been published as a trilogy a decade or so ago. As a matter of fact, it would fit quite nicely as a trilogy, as it consists of three 300 pages part quite loosely connected to each other. And if it had been, I think there would've been no criticism from all those who strongly dislike long novels, and programmatically accuses 900 pages novels of being sloppily written. I don't think this one is. Sometimes the text could've been cut down somewhat maybe, but there isn't a lot to take away without losing something essential. At first, I was actually more worried that it should be too arty, too much style in the writing, when it started off with several pages of descriptions of different paintings in a gallery, but my fears didn't come true. Sometimes the frequent use of pseudo-Spanish expressions becomes a little annoying, but if you can accept that, "The Golden Key" is just a well-written novel with three very interesting stories set in a very interesting world. Just the kind of book I like.
Karl Henriksson
---
Order your copy from Amazon.com now:
| | | |
| --- | --- | --- |
| Hardcover | | US |
| Paperback | | US |
| Paperback | | UK |
---
Other books by Kate Elliott:
King's Dragon
Prince of Dogs
The Burning Stone
Other books by Melanie Rawn:
The Ruins of Ambrai
The Mageborn Traitor
Kate Elliott (personal home page)
Exiles: The Official Melanie Rawn Website (personal home page)
A Tribute to Melanie Rawn (fan page)
---
Reviews - Top 5 - FantasyLinks - BoardRoom - Eternal Classics
Award - Book Search - Chat - Free E-mail - Advertising
---
© 1996-1999, Henriksson & Henriksson.