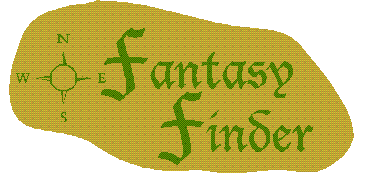 Kate Elliott
The Burning Stone (Volume 3 of Crown of Stars)
DAW Books 1998
This is the third book of "The Crown of Stars". If you haven't read "Prince of Dogs", don't read any further.
For once, it seems like everything is going to turn out right for Alain, Liath and the rest of the good guys in Kate Elliott's epic Crown of Stars-series. Gent has been recaptured and Sanglant freed from the Eika, to his beloved Liath. Alain and his father, Count Lavastine, have King Henry's gratitude for their important services in Gent, and Alain's wish to marry the king's niece Tallia, the heretic wannabe saint, is about to come true. But if you've read the two previous books, you know that this is the kind of series where the righteous often suffer unjustly while the wicked prosper. When everything seems to be going well, disaster lurks around the corner.
Ms Elliott has created a complicated web of plots and characters. After two books we had a fairly accurate picture of the goals of most characters in the everlasting political and military power struggle, but we had only a few clues to who wanted what in the major apocalyptic battle of sorcery. In this book, the pieces come together so that we finally begin to understand what the picture of the puzzle will look like. With a few hundred pages left I even wondered if the conclusion would be in this book. It was a little like an Agatha Christie-whodunnit where the goal wasn't to find out who committed the murder but to find out who is blood and kin with whom. Sister Rosvita has the air and mind of a medieval Miss Marple.
My overall impression is that this is a nicely woven and well-written fantasy epic, so far. The author has a way of creating strong emotions in the reader. Her world is very much like a 9th C. Europe with a few fantasy bonuses, but she makes it come alive , giving us a fairly realistic picture of the medieval mind. The only thing that annoys me a little is her way of telling us what's happening at the same time in different parts of the world. Dreams, visions, seeing through fire and quite a few other methods are used, and we are being shown glimpses, written in italics. Sometimes it's appropriate, but here it's a little too much. Nevertheless is this a great book and a great series.
Karl Henriksson
---
Order your copy from Amazon.com now:
| | | |
| --- | --- | --- |
| Hardcover | | US |
| Hardcover | | UK |
---
Books by the same author:
King's Dragon
Prince of Dogs
The Golden Key (w/ Melanie Rawn and Jennifer Roberson)
Kate Elliott's personal home page
---
Reviews - Top 5 - FantasyLinks - BoardRoom - Eternal Classics
Award - Book Search - Chat - Free E-mail - Advertising
---
© 1999, Henriksson & Henriksson.