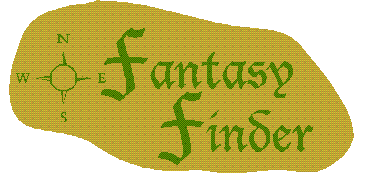 Kate Elliott
Prince of Dogs (Volume 2 of Crown of Stars)
DAW Books 1998
This is the second book of "The Crown of Stars". If you haven't read "King's Dragon", don't read any further.
The Varren lords under King Henry's sister Sabella's banner have capitulated. But Gent is still controlled by the non-human Eika warriors and their leader Bloodheart. And Gent wasn't just an important city and the key to Wendar's northern defence. It's also the place where King Henry's eldest offspring, the half-elven Prince Sanglant died. Or so King Henry thinks. But in the heart of the city, in what once was the cathedral, a young man in chains live among Bloodheart's dogs, fighting them savagely until many of them see him as the leader of the pack - the Prince of Dogs.
The second book in the Crown of Stars series continues where the first one ended. Liath is travelling with the king's entourage, hoping that she's finally escaped Father Hugh. Alain is returning home with his new-found father, Count Lavastine, belatedly learning all the things every nobleman's son should know, and especially one who are to inherit his father. But we'll also experience what's happening from the perspectives of many others we got to know in the first book: Liath's friend Hanna, her milk-brother Ivar, Ivar's older sister, Rosvita, and many more. Not the least of them the Prince of Dogs himself.
I really liked "King's Dragon", but this second book in the series is even better. The story develops in a most exciting way, new interesting characters are being added and we get to know a lot more about the interesting world where it's all taking place. Especially the new knowledge we get about the Eika, both from Prince Sanglant and from Alain and his dreams about Fifth Son is really something. The way I see it this book only has two flaws. One is that I still have almost no knowledge at all about what's really happening, beyond the political and military level of King Henry's struggles, on the highest level. What's the real fight all about? And who's on what side? And what part will our heroes play in all that? The other is that it will probably take some time before I get to read the third book in the series - and I want it NOW!
Karl Henriksson
---
Order your copy from Amazon.com now:
| | | |
| --- | --- | --- |
| Hardcover | | US |
| Hardcover | | UK |
| Paperback | | US |
| Paperback | | UK |
---
Books by the same author:
King's Dragon
The Burning Stone
The Golden Key (w/ Melanie Rawn and Jennifer Roberson)
Kate Elliott's personal home page
---
Reviews - Top 5 - FantasyLinks - BoardRoom - Eternal Classics
Award - Book Search - Chat - Free E-mail - Advertising
---
© 1996-1999, Henriksson & Henriksson.