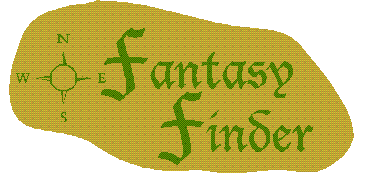 Fantasy Finder's Top 5 Voting List
Contributors so far: Duncan Boyd, Vinny, Karl Henriksson, David Byron Myers, Ron Hall, Raymond Wu, Vernice McCoy, Brian, David Svensson, Chris, Andrew Wood, Michelle Davis, Jeff Lundstrom, Joe Hopkins, Robinson, Vesa Norilo, Bob Jones, Colin Glassey, Michelle, Karl Hertz, Davejaxx, John Seelye, Prensa, Stig Apelman, Robert Connaughton, Todd Roemmich, Peter Wessel, Christer Blomberg, Warren Vilarba, Lillemor Hogebrandt, Richard Maffei, Electronic Information Network patron, Dan Dean, Jimmie Johnsson, Paul Rizzo, Kyle Nahornoff, Steve Smoot, Johan Haller, Lars Nilsson, Enyhus, Larry Lange, James W. Deen, Patrick Barron, ISS, Micael Gustavsson, IceSkaterM, Efrat NA, Borthac, Mats Andersson, Gallimore, Dan Lindeberg, Ulf Hagström, Jos Lemmens, Hayri Erten, Marleen Stam, Doruk, Walter Witschey, A.C. Wagenaar, Suzette Ebanks, Boyd, Keith Adams, Magnus Lööf, Rachelle de Rocquigny LeRoux, Cerowyn, Elizabeth Gentry, Randy Parker, Andy Huang, John Johnson, Jurgen Hermse, Dewi Widjaja, Olli, GrayMan1, Seth Brown, Ripkill, Henry Honkanen, Jennifer Dennis, Hogeschool de Horst, David Belford, Francois Poupart, Alina Laurie, Keith, Damien Gourbiere, Melinda, Rastlin3, Texs72, Juan Carlos, Christina Mullins, Roland Krumm, Defender, David Kennedy, Walter Witschey, Gunnar Andersson, Terry Kinningham, Andreas Andersson, Markus Rehm-Humke, Brian, P. Gawdunyk, Jason Lavigne, Jane Soetiono, Velocity, Dana R. Gregory, Stephen McNally, Paul Harris, Terese daly Ramin, David Marshall, Cheryl Jones, Michael Merkl, Steve Graham, Eric Edgin, Clayton Lawrence Pelon, Aleksandar Markovic, Clifton F Bell, Ronald Stiles, Lynne, Richard Carroll, Andrew Baron, Steve Dong, Tim Gshnström, Eric Otten, John Ruggiero, PeoplePal, Maciek Kochanowicz, Tane Aikman, Tim Wong, Patrick McIlvenna, Lawrence Person, The Glasscocks, Elizabeth Young, Ryan Dolley, Jim Balber, Joe Phelps, Ole Rendal, Matthew Baker, Rebecca Barney, Kristen Dolley, Ed Hall, Fred Solinger, Gota Lee, Freddie Johansson, Paul Evans, Seth, Tony Bankston, Mustapha, Gaia, MChase678, Adrian Dickey, Yune Lee, Linette Lawlor, Stephen Wotton, Justin Stauffer, Sam O'Neill, Stu McDermid, Marianne Li, Michael Becker, Houligan27, Chris White, Jesse Hart, Melina Bruce, Anders Hallin, cjallen, Christie Syphrit, Groff, Mark Baker, Francois Poupart, Oskar Brandt, Mike Berro, Alexander Joneby, Dylan Miller, Jason Brake, Gretchen Woehr, Sherri Netherby-Cox, Jeffrey Knott, Kai Camille, Jan-Willem Brokamp, Kate von Mayr, Mats Boström, Kees Pieterse, Bernie Margolis, Timothy O'Neill, Rob Schillinger, Jonathan Duhrkoop, Joel Duckham, Joseph-Paul Elizabeth, Bryan Belanger, Drakkhen, Rebecca Dunbar, Elaine Newcombe, Erik Knudson, Lorin Jitchaku, Marc Balara, Max Seed, Michael Klouda, Neil Nichols, Kumo Alauddin, Paul Corradini, Richard Drummer, A. Hawkwing, Melanie Saw, Mark Sehestedt, Alpaca, Eddie van Mourik, Raybo, Geen Onderwerp, Anders Parsmo, Michael Yurkus, Ali Gholinia, Bronislaw Dejnega, Se7n, Andrew Stevens, Ed Dudenhoefer, Sarah Clements, Faisal Saleem, Eliuks, Heather Greene, CarrBado, Donovan Mattole, Rocky Nelson, Zoe Numair, Pär Bergkvist, Rebecca Barney, Lehigh, Peter Derveaux, Amael Keil, Gregor Ronckers, Edmond Dantes, Elanmorin, Lise Proulx, P.O. Arnäs, Richard Hulbert, Tim Elsaesser, Tina McMullen, Mark Boyce, ESL345, Michal A., Ambyrglow, Tyshih, Marcus Oh, Jeffrey Kinney, Blake Hyde, DHn, Ivo van den Wyngaert, Theo Smits, Thomas Larkin, Jari Latvala, Linda Prentice, Celine, Frank Family, Adam Trinkle, Jay Bishop, M Stewart, Rick Foley, George, Robert Schuerhuber, Pekka Lampila, Becky Hill, JosÚ Luis Porfirio, Barry Barreras, Jacqui Hardy, Lambert, John Seabrooke, Andrew, Greenefox, Greg Stone, Shoa1Kano, Rod Schwartzkoff, Compaq Jonsson, Mitos, Arel773, Sven-Henrik Vidhall, Barry Barreras, Lorraine, Lena Paulsen, Crystal Andringa, Bart Jaski, Derek Laney, Siran, Vladimir Mitchev, Reviewer, Nasihat Menasihati, Bruce Kasenetz, Bob Verdon, Oakley, Summe, Sylvan, Paramdeep Jassi, Christopher Young, Gilgara Homestead, Anne C Mesley, Joel Haubrich, the Camden Family, Stephan Timme, Linda Elane, Alice Lawhead, Ralkin, PhoMercFan, Florian Zander, Betrayer of Hope, Claude Drolet, Irene Krechetoff, Terry Hayes, Jerry Schechter, Magicport, Swan Sioned, Leanne Wu, Elina Pajari, MMC100BB, Jolie Ringash, Wrath, Lee Jackson, Eric Hu, Thomas Ödegård, Tommy Malmodin, Jacque Merritt, Gabriel Belanger, Jason Mulligan, Ben Fletcher, Chad Keffer, Eric Gelatt, Dean Michie, Hunter Nielsen, Brad Searles, Cassman129, Edwin Brouwer, Michael McCarthy, Mosiah, Roberta Johnson, Sluggy7, JMeis29113, Ignat Zapolsky, Farren, Irena Ziomko, Susan Clark, Jared Blackburn, Sylvan Arrow, Thomas Rickert, Arla Niemi, Johnny Rivli, Joch, Missie9438, Henry Fitzgerald, Leif Strandberg, Jason Adams, Daniël Coninx, Gary Sargeant, Walt Littleton, Darragh Murray, Mark Chesney, Wrath, Wojtek Brzezinski, Josh Segall, Carl Parsons, Adam Rosser, Mary E. Wallace, Georges Dodds, Robin Hankin, Aniko Sohar, Ross Lawlor, Denis Petrenko, Leonid Papkov, C. Kobylka, Randy Lieberman, yl112cornell.edu, Tomislav Tkalec, Geraud Servin, Martin Arsenault, Ronald Woodard, Anuda Tawatsin, Jaimet Aneja, Doruk Akan, Bob, Stéphanie Noverraz, Jean Marvin, Motoko Kusanagi, Lady Ayanami, Noah Mass, Mikael Hansson, Kenneth Alm, Michael Petzold, Adam Rosser, Joe Hopkins, Maria ┼borg Lagerstrand, Ed Miller, Luke Jerome Spence, Preston Welch, Vicki Slow, Trond Solstad, Siouxzn812, Piotrbr, Lawhead, Hunter Nielsen, Ivan Gordon, Ivan Sp., HollyV, Chris, Hugh Toner, Doyun, Joel Mill, Deborah Meghnagi, Jurgen Baert, Steve Williams, Aaron Howell, Julie Wootten, Peter Gawdunyk, Chad Keffer, Roman Great, Scargil, Phillip Duggan, Rolandas, Lucy Owen, Wayne A. Chandler, Warren Perry, Kent Andrusko, Jeff Gray, Kathleen Yunger, Chris Matrim, Caroline Mooney, Roskam-Samgot, TinkRoxy12, Svein Arne Ovrebo, Turo Vartiainen, Amg Jenn Shi, Kenneth Chao, Steve Richards, Paul Hollyman, Nathan Tadema, Frank Parsche, Sioux Trett, Piotr Brygiert, Kenneth Stagg, James Austin, Thomas T vu, Ellan West, Bryan, Paul Felsheim, Olaf Sander, Werner Zoglauer, Agnieszka Zapatka, Barrett Webb, Wielande, Lars Olav Tungesvik, Piotr Andrzejewicz, Michael Rhodes, Marnix Baes, Petra, Karen L, Christopher McMorrin, Daniel Mahlman, Bernie Hewing, Kari Sörensen, hoodedman, Scribblegrl, Brandi Page, Meg Richards, alizar, Melle Mos, David Ansell, Dariuz Bartoszewski, Mary Gustavsson, Wendy Linham, Steel, Thelynchy, Likov, Dave and Audrey Green, Fineaznkid, Tamas Kulczar, John Coots, Tom Litterer, Chris Bell, Patrick Zircher, Tülay Pfnadschek, Robert Petti, Carsten Kuelheim.
---
---
© 1997-2001, Henriksson & Henriksson AB.