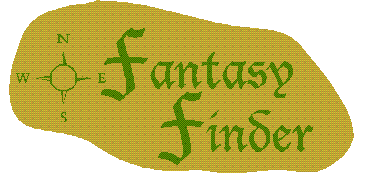 Paula Volsky
The White Tribunal
Bantam 1997
When Tradain LiMarchborg was 13 years old, his father and two brothers were executed by the White Tribunal, wrongly accused of sorcery. Tradain himself was sent to an infamous prison without a trial, because his father, tortured almost to death, didn't sign a false confession until the Premier Jurist liGurvohl promised that Tradain, the youngest son, would go free from torture. (As Tradain was underage, he couldn't be convicted in a court). In prison he starts to learn something about the most forbidden secret - sorcery. And when he finally escapes, after 13 long years, he swears to revenge his father and brothers. Revenge at any price - even his own soul, the ultimate price for sorcerous power...
Ms Volsky here does another study in the evil of man. The scenario is quite similar to that in "Illusion", with an all powerful judge who condemns anyone for their, true or untrue, wrong-doings, creating terror in the country. While "Illusion" was modelled after the French Revolution, the inspiration for this one isn't as obvious. It's like a mix of the Spanish Inquisition with more modern witch-hunts, like that in the Soviet Union or the People's Republic of China, but in a society with an officially ruling king and rich class of aristocrats around him. If it hadn't been for her earlier novels being so clearly modelled after our own world's historical situations I guess I just would've labelled it a "semi-modern European society". The magic have strong similarities with the magic in "The Gates of Twilight", with only half-interested demi-gods transcending down into the world, using their enormous power in a somewhat haphazardous way.
But although it's quite clear from page one that this is another Volsky book, she actually changes the plot from "Illusion" and "The Gates of Twilight" somewhat. New is the vengeance theme, with its implicit discussion about the moral and psychological value of revenge, making the distinction between villain and hero vague. It's interesting to follow how Tradain implements his vengeance, and his way to the final encounter with the being who has given him sorcerous power. But nevertheless, I think this book is weaker than Ms Volsky's previous efforts. The first third, when Tradain is being tortured and in prison, isn't very funny to read. It's not meant to be, but only some of it is upsetting and emotionally involving. Part of it is actually quite boring, but when he finally he gets free the book becomes quite enjoyable.
Karl Henriksson
---
Order your copy from Amazon.com now:
| | |
| --- | --- |
| Trade Paperback | |
| Paperback | |
---
Books by the same author:
Illusion
The Wolf of Winter
The Gates of Twilight
---
Reviews - Top 5 - FantasyLinks - BoardRoom - Eternal Classics
Award - Book Search - Chat - Free E-mail - Advertising
---
© Henriksson & Henriksson 1997.