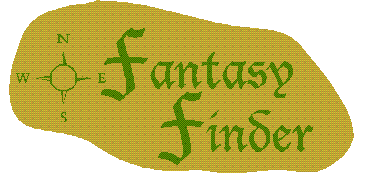 Paul Kearney
The Way to Babylon
Victor Gollancz 1992 A well-known fantasy writer, Michael Riven, is recovering from the injuries caused by a mountaineering accident, which killed his wife Jenny. As soon as possible, he returns to Skye off the scottish coast, to him so connected with his late wife. But there he meets messengers from the world he has created, Minginish. After the death of his wife everything has been going wrong in Minginish, and only he, the world's creator, can make it right.
Part of this book is an adventure story about travelling across Minginish, fighting the powers that are about to destroy the land. This isn't very interesting. It's not very boring either, but although a great fan om Katherine Kerr's Deverry-series, I'm not really into celtic fantasy, and this one is stereotypically celtic - mr Riven is not a very innovative creator. Even the word "Minginish" is originally from our world, it's the name of a part of Skye, the author tells us. And Babylon? Just a song mr Riven's got on his mind. There's certainly nothing Mesopotamian about this book...
Anyway, the interesting stuff is the relationship between the author and his world, and his struggle to overcome the loss of Jenny and his dark memories. In Minginish, Riven meets people who looks exactly like people he knows in our world, but behaves quite differently. And the most important one of them is his own wife... To a hardcore fantasy reader it may seem strange, but the psychological realism here is more interesting than the adventure, and our world is as interesting as the fantasy universe.
Karl Henriksson
---
Reviews - FantasyLinks - BoardRoom - Top 5
---
© Henriksson & Henriksson 1996.