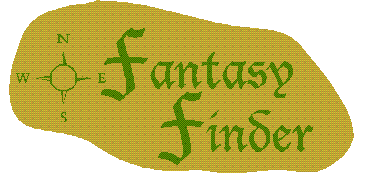 J.V. Jones
The Baker's Boy (Volume 1 of The Book of Words)
Warner Aspect 1995 About 18 years ago, a meteor falling into the atmosphere split in two: one white and one red like blood. Now the orphan Jack is baker's boy at Castle Harvell, but when he discovers his magical abilities, he has to run away. Melli, the beatiful daughter of the rich and unscrupulous Lord Maybor, is unofficially promised to the evil prince Kylock - and decides that her best solution is to run away. They meet each other in the forest, hunted by the evil sorcerer Baralis, who wants to create an empire under prince Kylock and ruled by himself.
This is a book made from the basic high fantasy recipe. We've got the prophecy, the orphan hero - who works in the castle kitchen (R. Feist, T. Williams) - , we've got good and evil sorcerers and so on. If you want an unpredictable story, this isn't the one for you. But most fantasy readers seems to like new versions of the good old story (I do), and this is a well-told and entertaining piece. Lots of palace intrigues, and international political conflicts, lots of sex and romancing (but no explicit sex scenes), and a great deal of food. In fact, I don't think I've ever read a fantasy book with such detailed (and lustful) descriptions of various dishes.
The book is filled with interesting characters, such as the cruel and food-loving archbishop Tavalisk and Melli's enormously rich, ambitious and libidinous father, Lord Maybor. There are also a couple of more openly comical characters, like the soldiers Grift and Bodger, and loads of women willing to sleep with any man (as long as he can give them money or power, or both). A friend of mine thinks this book has got a somewhat patriarchal world view. In his experience women are not at all like that, but maybe he's just tried the wrong methods when picking up women... I guess the female author of the book ought to know...
Karl Henriksson
---
Order your copy from Amazon.com now:
| | |
| --- | --- |
| Paperback | |
---
See also Fantasy Finder's guest book: 970411.
Books by the same author:
A Man Betrayed (volume 2, even better than The Baker's Boy!)
Master and Fool (volume 3)
J.V. Jones' personal home page
---
Reviews - FantasyLinks - BoardRoom - Top 5
---
© Henriksson & Henriksson 1996.