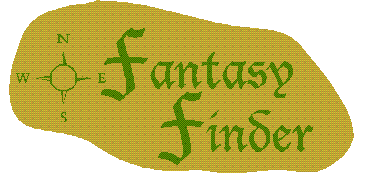 Daniel Hood
Fanuilh
Ace Books 1994 Liam Rhenford, a traveller and scholar now living in the city of Southwark, is the one who discovers that his friend, the wizard Tarquin has been murdered. The wizard's familiar, a small dragon called Fanuilh, bonds himself magically to Liam and telepathically makes him agree to find out who the murderer is. Which turns out not to be very easy.
This is a real fantasy whodunnit. Compared to the great works by masters of the whodunnit genre, like Agatha Christie and Dorothy Sayers, it doesn't really make it all the way. But it's not a bad detective story. And if Hood lacks some sophistication in his murdering, Christie certainly lacks the great sword-and-sorcery city of "Fanuilh".
I really liked Southwark - the streets, the inns, the theatre, the suspects... And the dragon, who doesn't understand much about humans although he can read Liam's mind and memories, and wants to be scratched. I also liked the religious ceremonies Liam witnesses, Mr Hood has caught the feeling of, for instance, Catholic saint processions. If the magic of the world had been created with such understanding, it would have been great. Now the magicians are far too powerful, they seem to be able to create almost anything out of nothing. Fortunately, the only wizard in Southwark was Tarquin - and he is six feet under.
There is a set of interesting - and still living - characters and an even more interesting web (or should I say mess?) of relationships between them. Even if you realize who the murderer is before Liam himself does it, there are a lot of other mysteries to solve - those of human behaviour. All in all, this makes "Fanuilh" real nice reading.
Karl Henriksson
---
Order your copy from Amazon.com now:
| | |
| --- | --- |
| Paperback | |
---
Books by the same author:
"Wizard's Heir"
---
Reviews - FantasyLinks - BoardRoom - Top 5
---
© Henriksson & Henriksson 1996.