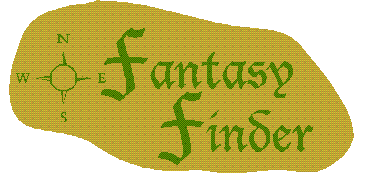 Lynn Flewelling
Luck in the Shadows (Book 1 of the Nightrunner Series)
Bantam Spectra 1996 Young Alec of Kerry has been taken prisoner, accused of spying. His future doesn't seem too bright: he isn't tortured to death like the other prisoners, because he is to be sold to slavers. Then a new cellmate appears, a bard who calls himself Rolan Silverleaf but turns out to be Seregil of Rhiminee - a spy, thief and noble who also is quite good at escaping from a prison, taking Alec with him. When Seregil propose taking Alec on as an apprentice, promising an adventurous life where he will see wonders he never even dreamt of, Alec agrees. He is an orphan, who has been taking care of himself since his father died, hunting, tracking and so forth, but Seregil sees in him a talent for his own craft.
This is the beginning of an adventure of a lifetime for Alec. Seregil steadily stears them into troublesome situations, where his own, Alec's and several of their friends' skills are thoroughly tested. With them are the bearlike Micum, father of three daughters, the old wizard Nysander and his apprentice Thero and a few nobles and officers. This group makes me think of a role-playing game party, and the adventures they jump into could've been taken from a role-playing game, too. I'm not principally against this kind of plot. As long as the tempo is high enough, it's quite entertaining, but when the tempo occassionally slackens my interest in it tend to fade. I liked the first 200 pages of this book, but after they reached Rhiminee the story began slowing down. Rhiminee is the capital of the Skalan empire, constantly at war with neighbouring Plenimar, but also threatened by internal strife. It's got all the facilities of a good sword and sorcery city, a Lankhmar. As if that wasn't enough, there are also royal conspiracies. And still it doesn't make me tick. I don't know why, really. It might be the centaurs, they always put me off. It might be the elves, who're way too human, only living a little longer. Still, I've read a lot worse, and maybe the next book will be better.
Karl Henriksson
---
Order your copy from Amazon.com now:
| | |
| --- | --- |
| Paperback | |
---
Reviews - FantasyLinks - Top 5
---
© Henriksson & Henriksson 1997.